The Half Moon Newsletters
Current Issue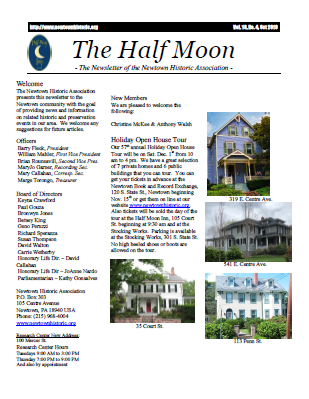 October 2019 — Volume 18, No. 4
In this issue: Holiday House Tour preview, Market Day Wrap-up, Carl LaVo November program, and more.

The Newtown Historic Association publishes the quarterly Half Moon newsletter for the Newtown community with the goal of providing news and information on related historic and preservation events in our area. For your reference, there is a subject index for periodic articles published in the Half Moon.
https://www.newtownhistoric.org/wp-content/uploads/2019/10/NHA-Newsletter-doc-Oct-2019.pdf
We welcome any comments or suggestions for future articles. Please forward your ideas to the Half Moon Editor. We look forward to hearing from you!
Issue Archive
Click here to download Adobe® Reader® — free software for viewing and printing PDF files.