YOU CAN HELP!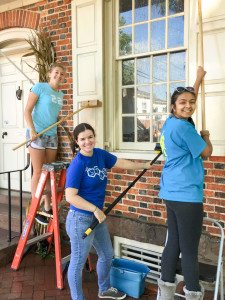 The Newtown Historic Association is dependent on the efforts of many individuals to sustain the mission of the Organization.  Volunteers are needed to assist in events, projects and ongoing research and archiving activities.   If you are interested in helping, and don't see anything that sparks your fancy on the list below, please call 215.968.4004 or email volunteer@newtownhistoric.org
CURRENT NEEDS
Check back after March 18, 2021
The Callahan Research Center has been closed due to the Covid virus. The reopening is planned for March 11, 2021. Acquisitions and donations have not stopped during this time and so it is fair to say that things are a little "piled up" at the moment!
The list of new volunteer opportunities with the Newtown Historic Association will be posted after we reopen and have a chance to sort things out. Check back or call 215.968.4004 or email volunteer@newtownhistoric.org
LINCS hours
High School Students can earn credit for LINCS and other volunteer requirements.  If you are interested in your community and history, we will find a project for you!  Call 215.968.4004 or email volunteer@newtownhistoric.org