Spirits of the Outlaws: the Doan Gang and Bucks County Taverns
October 6 @ 7:30 pm

-

8:30 pm
Event Navigation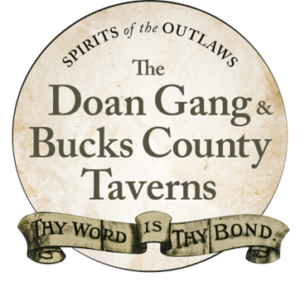 Join us for a fascinating historical talk about the impact the Doan Gang had on Newtown and our fledgling country during the Revolutionary War. The Mercer Museum is pleased to present "Spirits of the Outlaws, the Doan Gang and Bucks County Taverns." This engaging session will be led by Annie Halliday, Director of Library and Archives, and Clint Flack, Exhibit Specialist/Preparator.
The Doan Gang was a group of British loyalists. The most notorious members being five brothers and one cousin from the Doan family of Plumstead, Pennsylvania. The gang was composed of around 30 members who were accused murderers, attainted traitors, and horse thieves who ferried British prisoners of war to British lines. They were also guilty of robbing tax collectors, and their most famous crime being the theft of the Bucks County treasury in 1781.
This 45-minute lecture covers the thrilling history of the Doan gang's activities, and their frequent visits to colonial taverns in Bucks County. Taverns were the "town halls" of Revolutionary Bucks County. They served not only as a destination for weary travelers but a place to conduct public business such as elections or government meetings, or to record the depositions of victims of the Doan gang's nightly rides.
Proceeds from this event are shared by the NHA and the Newtown Theatre. We expect another sold-out presentation so be sure to purchase your tickets early on the Newtown Theatre website.