Tips and guidance for tour day
Whether this is your first house tour or your 57th, here are some tips to help you have the best day possible.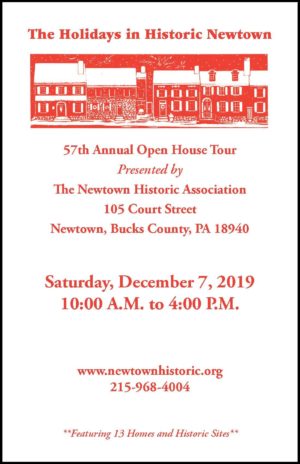 Tickets
Tickets are $30 and will be sold the day of the tour at the Half Moon Inn (Court Inn) and at the Stocking Works
Buy tickets in advance online or at The Newtown Book & Record Exchange, 102 S. State St., Newtown
If you buy your tickets online, you will need to come to the Stocking Works or Half Moon Inn (Court Inn) on Saturday to pick up your tour booklet, which gets you into the houses
Parking
There is free parking at the Stocking Works, 301 S. State Street
Municipal parking lots are available within 2 blocks of the Half Moon Inn, behind the Starbucks and also behind the First National Bank of Newtown
General Tour Information
The event is rain or shine, but if there is a major snowstorm it may be postponed until Sunday the 8th – check this site for up-to-date information
The houses open at 10am and close by 4pm. There is much to see and do, so come early and enjoy the day
The tour booklet includes a map; you can review it online to plan your route
Half Moon Inn and Stocking Works will be open at 9:30 for ticket purchase and pickup
Wear your comfortable walking shoes. Depending on the weather you may be given slip-on booties to put over your shoes as you enter the houses
No high-heeled shoes please
There is no picture-taking allowed in the homes
Half Moon Inn (Court Inn)
The headquarters of the Newtown Historic Association will be open all day; stop in and say hello to our volunteers
There will be colonial music and re-enactors of the colonial period, as well as an open-hearth cooking demonstration on the first floor
Gift items may be purchased in the Museum Shop
Food & Drink
The Half Moon Inn will be serving complimentary hot mulled cider and cheese all day
There are many eateries in the immediate Newtown downtown area. Come extra early and have a pre-tour breakfast!
No food or drink allowed in the homes
Restrooms
Restroom facilities are available at the Half Moon Inn (Court Street and Centre Avenue).
Other Events in Town
Soup Luncheon
11:00 am to 3:00 pm
Macedonia Baptist Church
218 North State Street
Soup Luncheon, Craft Bazaar, and Bake Sale
10:00 am to 3:00 pm
St. Luke's Episcopal Church
Washington Avenue & Court Street
Chili Luncheon
11:30 am to 2:30 pm
Newtown Presbyterian Church, Ettenger Hall
Washington Avenue & North Chancellor Street
Things to Do