Newtown Experience™
There's still time to purchase your raffle tickets for the Newtown Experience™! The Newtown Mercantile Group is sponsoring the raffle with all of the proceeds to benefit the historic preservation of Newtown and the historic sites managed by the Newtown Historic Association. The total Newtown Experience™ Gift Basket Value is over $650 with the winner of the raffle receiving certificates for all of these items: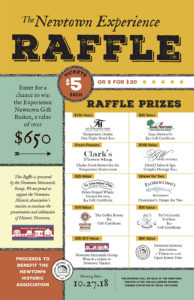 A night at the Temperance House with flowers from Clark's Flower Shop
Isaac Newton's $30
Couples massage at David Witchell's Spa
The Zebra Striped Whale $25
Dinner for two at Florentino's
The Coffee Room $15
Pat's Colonial Kitchen $20
2 Tickets for the annual NHA Open House Tour $60
Wine and two tickets to the Newtown Theater
Get your raffle tickets at:
The Tubby Olive
The Book and Record Exchange
Countryside Gallery and Custom Frame Design
First National Bank of Newtown
Tickets are $5 each, or 5 for $20.
The Newtown Experience™ drawing will be held Oct 27 at the Newtown Theater, after the Halloween Parade. Winner contacted by email or phone.
Thank you for your support of the Newtown Historic Association!