General Meeting
February 21 @ 7:30 pm

-

9:00 pm
Event Navigation
Doug Miller on "William Penn and the Founding of Pennsylvania"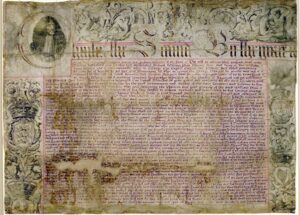 In 1681 William Penn, with the signature of King Charles the second, became the largest land holder in England. His fledgling colony would become the Keystone to the development of a nation. Explore the history of our founder and the beginning of our colony of Pennsylvania with Doug Miller, the director of William Penn's home, Pennsbury Manor.
Pennsbury Manor is a reconstruction of William Penn's country estate. It is set on 43 acres along the Delaware River in Morrisville, PA. It is the only site in the nation dedicated to preserving the historical significance of William Penn. Pennsbury Manor brings the past into the present by telling the stories of the colonists, servants, enslaved people, and Native Americans who lived on that land.
Doug Miller serves as the historic site administrator for Pennsbury Manor, the home of William Penn here in Pennsylvania. He is employed by the Pennsylvania Historical and Museum Commission and has served as museums director at Brandywine Battlefield, Washington's Crossing, Hope Lodge in Fort Washington, Graeme Park in Horsham and Curtin Village in Centre County, PA. Mr. Miller serves as a peer reviewer for museum accreditation and as a consultant through the MAP (museum assessment program).
This event is the February meeting of the Newtown Historic Association. It is free and open to the public and will be held at the Half-moon Inn, 105 Court Street, Newtown, PA on Tuesday, February 21, 2022 at 7:30 PM.
*PHMC Record Group 26: Records of the Department of State, Basic Documents, 4 pages, parchment with iron gall ink.