EVENT TICKETS
For tickets to our events, click here
Museum Shop
Ordering Instructions
Complete the appropriate Order Form (Books & Items Order Form). Be sure to include $4.00 for shipping & handling for each item and 6% sales tax. Make checks payable to: Newtown Historic Association, Inc. Mail completed Order Forms and checks to: The Newtown Historic Association, P.O. Box 303, Newtown, PA 18940. Please allow 2-4 weeks for delivery.
Books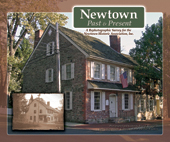 Newtown: Past & Present, by Brian Rounsavill, 2006.
Consists of 81 historic photos rephotographed and presented side-by-side to highlight a century of change in Newtown. Photographed and written by Brian Rounsavill. Contributing Editors C. David Callahan and Paul M. Gouza.
168 pages, hard cover, 10″ x 12″ oversize format.
Price: $39.99
Available for pick-up at the Newtown Hardware House or you can order by mail using this form.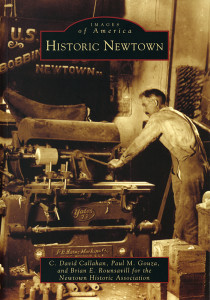 Historic Newtown – Images of America, by C. David Callahan, Paul M. Gouza, and Brian E. Rounsavill, 2001.
From the archives of the Newtown Historic Association, Historic Newtown offers the reader a unique opportunity to see everyday life in this rural community as it was at the beginning of the twentieth century.
Price: $21.99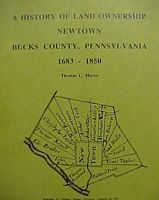 A History of Land Ownership of Newtown, Bucks County, PA, 1683-1850, by Thomas C. Mayer, 1999.
currently out of stock
Postcards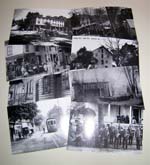 Assorted Newtown Postcards, Pack of 13 – Black & White and Color Views
Price: $10.00
Stoneware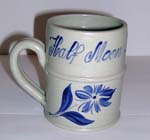 "Half Moon Inn" Stoneware Mug. Crafted by the Williamsburg Pottery Company.
Price: $15.00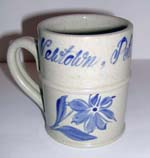 "Newtown, PA" Stoneware Mug. Crafted by the Williamsburg Pottery Company.
Price: $15.00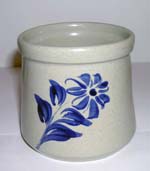 Stoneware Crock. Crafted by the Williamsburg Pottery Company.
Price: $10.00
Half Moon Inn Apparel – currently out of stock