HISTORIC POSTCARDS of NEWTOWN, PA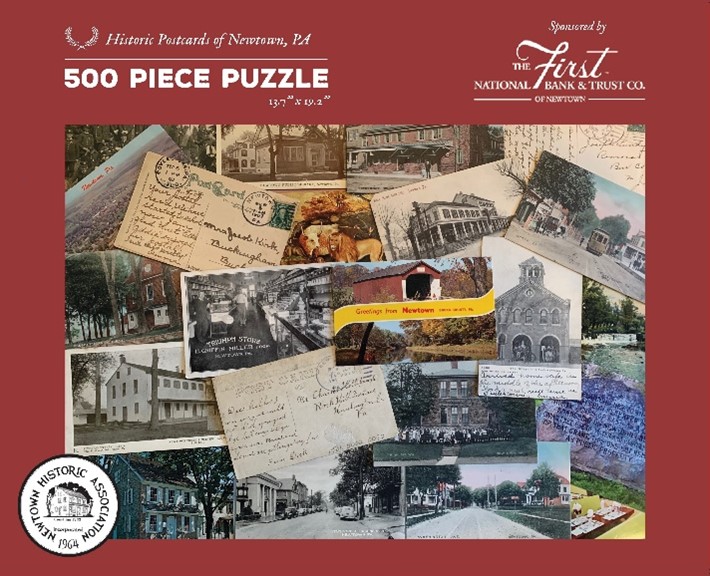 Currently Sold Out!
Order online
The Historic Postcards of Newtown, PA is a first in a series of collectable puzzles, taken from the archives of the Newtown Historic Association. These postcards offer a timeless glimpse back at life as it was in the twentieth century. The puzzle highlights popular attractions and notable scenes from this once small farming community that is steeped with history, much of which remains visible today.
This 500-piece jigsaw puzzle is being sold as a fund-raising initiative for the Newtown Historic Association. Online purchase is available here. The puzzle is also available for purchase at the S. State Street branch of the First National Bank. This puzzle was sponsored by The First National Bank and Trust Company of Newtown which has been doing business in Newtown since 1864. The NHA is grateful for the First National Bank's commitment to Bucks County and their support of the Association.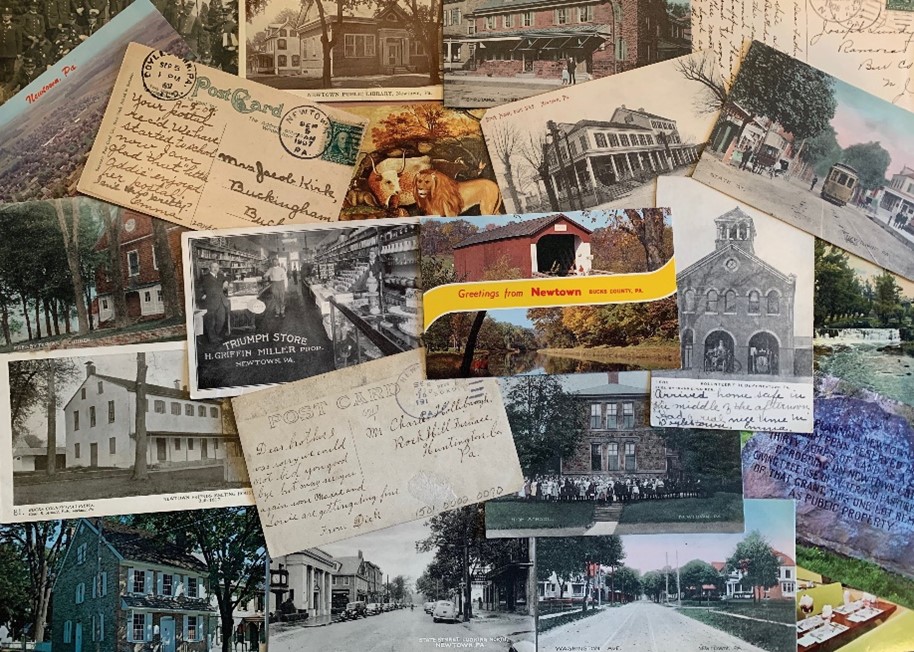 Order online
"The first postcards were issued by Austria in 1869, less than 30 years after the issuance of the world's first postage stamp, the penny black of Britain." Dominic Sama writing for the Philadelphia Inquirer, explains the history of postcards in this article.
While compiling the image for this puzzle and reading the messages on the postcards and postal cards (learn the difference in Domenic Sama's article), it was apparent from the spelling that many people wrote phonetically. This is illustrated in some of the messages pictured on the puzzle that are transcribed below. In the early twentieth century, many did not have telephones yet and the postal cards were used to let loved ones know of safe-arrivals, gratitude for visits and images from travels. For 1¢, you could send your message to someone in the U. S., Canada, Cuba and Mexico and for 2¢ for other countries.
The Postal Card and Post Card collection of the Newtown Historic Association is available for viewing and purchase at the Callahan Research Center, 100 Mercer Street, Newtown, PA 18940. (Note, due to COVID-19, the Research Center is Temporarily closed for purchase.) Please support the Newtown Historic Association by purchasing this puzzle using our secure online order form.

POSTCARDS PICTURED on THE
Historic Postcards Of Newtown Puzzle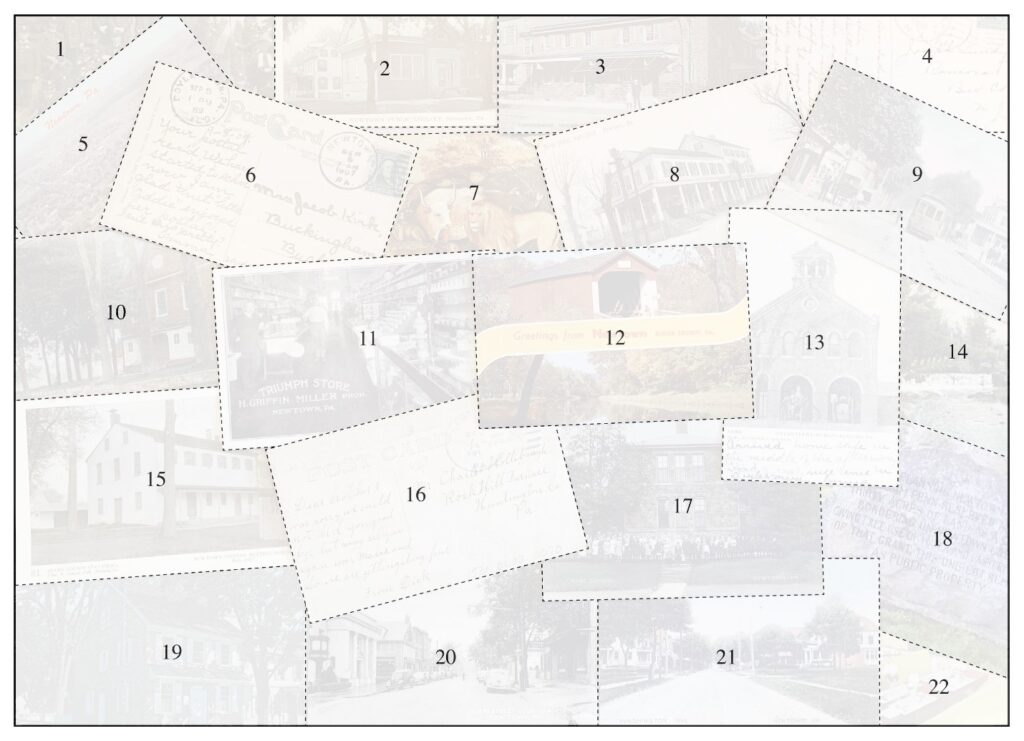 Newtown Fire Company; Aug 22,1907
Newtown Public Library, Newtown, PA; image c. 1920
Temperance House, Newtown, PA; image c. 1910. Printed in Germany, Pub. By Jas. Hutchinson; Hand tinted image
Postcard to Mrs. Joseph Lundy, Rancocas Bur Co, N.J.; 1908.
"We made good connections coming home. Found chicks all right. Can cherrirs today. E. had bad bump yesterday cut her head a little. We enjoyed our day with you very much. Bessie"
Aerial View of Newtown, Bucks County, Pennsylvania; image c. 1950. Color Photo by Herbert Lanks, Made by Dexter West Nyack, NY
Postcard to Mrs. Jacob Kirk, Buckingham, Bucks Co., Penna; postmarked Sep 5, 1907. (postcard pictures the George School Pond, Newtown, Pa)
"9-5-07 Your postal rec'd. We have started to school now. I am glad that "little Addie" enjoyed her postal. Isn't this pretty? Emma"
Peaceable Kingdom by Edward Hicks; c. 1970.
"THE PEACEABLE KINGDOM, by Edward Hicks. 1847-49. Published by The Cameracraft Shop, 29 S. State St., Newtown, Pa. 18940. Edward Hicks (1780-1849) lived, worked and worshipped in Newtown, Pennsylvania, for almost forty years. He painted all his Peaceable Kingdoms in this village." Cameracraft Shop, Inc., 29 S. State St., Newtown, PA 18940
Brick Hotel, built 1745, Newtown, Pa.; postmarked on back: Aug 23, 1919
State St., Newtown, PA; Postmarked Mar 5, 1909 (Intersection of State St. & Washington Ave. with the Trolley). Printed in Germany Pub. by Jas Hutchinson; Hand-tinted image
Presbyterian Church, Newtown, PA.; postmarked Aug 23, 1909. Printed in Germany, pub. by Jas. Hutchinson; Hand-tinted image
Triumph Store, H. Griffin Miller Prop. Newtown, PA; image c. 1910. Located at S. State Street in the Triumph Building. Back of post card: "Place a one cent stamp here"
Greetings from Newtown Bucks County, Pa.; c. 1970. Featuring the Schofield Ford Bridge. The Scheller Co. Hackettstown, NJ.
Newtown Fire House, Liberty Street, 1890; postmarked Aug 22, 1907.
"Arrived home safe in the middle of the afternoon. Had a real nice time in Doylestown. Emma."
Creek, NEWTOWN, Pa.; postmarked Oct 6, 1907.
Souvenir Post Card Co. New York Printed in Germany
81. BUCKS COUNTY (PA.) VIEW. Chas. R. Arnold. Pub., Ivyland, Pa NEWTOWN FRIENDS MEETING HOUSE – Built 1817. Postage on back of post card:

Postcard to Mr. Charles Hollibaugh, Rock Hill Furnace, Huntington Co, Pa, "Dear Brother I was sorry we could not bid you good bye but may see you again soon Maxie and Souie are getting along fine From Dick " Postmark Sep 2? 191?
HIGH SCHOOL, NEWTOWN, PA (Chancellor Steet, School); postmarked Apr 24 1912
Newtown Commons; postmarked Apr 14 2017. Message from Mayor Charles F. Shwartz III
HISTORIC NEWTOWN COURT INN Tavern built in 1773 – Centre Ave. and Court St. Newtown, Pa; c. 1970
STATE STREET LOOKNG NORTH, NEWTOWN, PA; image c. 1940. Published by The Collotype Co. Elizabeth, N.J. and N.Y.
WASHINGTON AVE. NEWTOWN, PA; c. 1910. Washington Avenue looking East. Published by Jas Hutchison. Printed in Germany. Published by Jas Hutchison. Printed in Germany; Hand=tinted image
Goodnoe Farm Dairy Bar; c.1970-1980. The home of the Atomic Sundae. Another "Living Color" Card by WYCO Products, 814 Greenwood Avenue, Jenkintown, PA (215)884-6881
Where Route 413 meets 532 NEWTOWN. BUCKS COUNTY. PA.
Bucks County's Finest in Home Made Ice Cream and Pies
Complete Fountain Service
Lunches. Snacks. Platters
Anything we serve can be prepared to take with you
"Party Room" available or small groups and meetings.
OPEN DAILY AT 11 A.M. – SUNDAYS AT NOON
Phone: WO 8-3771

Order online