Market Day 2016 is over!
Thank you to everyone who attended, and a special thanks to all our sponsors who made this event possible. We hope to see you all next year!
Announcing The Market Day Contest Winners!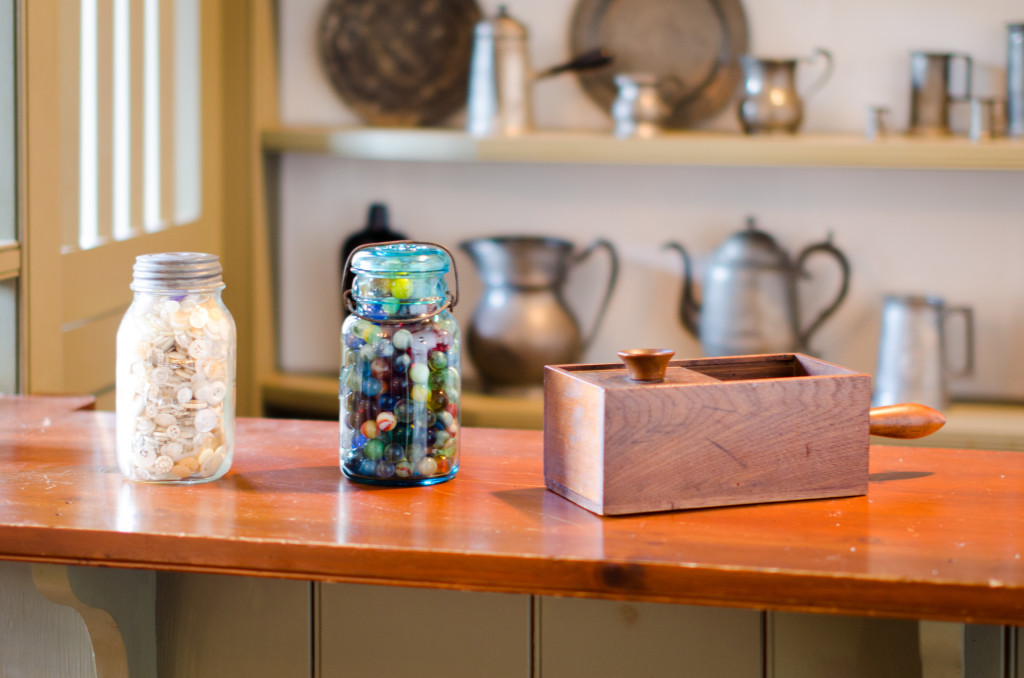 Button Jar
The number of buttons in the jar was 1,304.
Winning guess: Henry Piotrowski with 1,300.
Highest guess was 3,120, lowest was 116.
Marble Jar
The number of marbles in the jar was 238.
Winning guess: The Woldorfs with 242.
Highest guess was 356, lowest was 30.
"What's It?"
The wooden 'what's it' was a ballot box.
Adelaide Crompton was the only person to guess correctly.
Some of the more interesting guesses included: cigar holder, candle holder, yarn holder, compressor, candle box, tithing box, pipe holder and tobacco tray, yeast riser, butter mold, hearing aid.
Cape May Queen Victoria Bed & Breakfast Gift Certificate
Congratulations to raffle winner Jeanette Rogers of Newtown!
LOST & FOUND — A piece of jewelry was found at the event on Saturday. If you are missing something, please call 215-968-4004 or email info@newtownhistoric.org with a description, and we'll return it to you.
Market Day 2016 Photo Gallery
Market Day is a well-attended and wonderful event featuring crafters, artisans, fine arts, entertainment and food held on the first Saturday in October.  Over 90 crafters will present a wide variety of interesting crafts, and demonstrations will include: chaircaning, quilting, and rug hooking.
Our latest addition, a Farmer's Market, will sell fresh-from-the-farm produce. Folk music, children's activities, games, horse-drawn hayrides and a colonial militia encampment will be held throughout the day. Featured this year is a Puppet Theater in the Boone Garden.
Local restaurants are participating in our Festival of Foods and Open Hearth Cooking will also be demonstrated. Activities will be held in and around historic Court Street & Centre Avenue from 10:00 a.m. to 4:00 p.m. This year we have expanded to honor the 40th year of Market Day.  The Newtown Library will hold a 5k run and Business sponsors will be set up on State Street between Court and Washington Streets.
Historic Market Day was first held on Saturday, September 16, 1978, reviving an old tradition in Newtown, where long ago, local farmers brought their crops to town to sell. It was a day of festivities and contests that culminated with a horse race down State Street. So come and be a part of History. Stroll along charming Court Street and step back in time, while listening to the Town Crier announce activities and events.
All proceeds from these "Market Day" festivities are used to support the Newtown Historic Association. For information, call the Association at (215) 968-4004 or email info@newtownhistoric.org